Online Voice Recorder is a free, online tool that runs directly in your browser, meaning that you don't need to download any software separately. This handy online tool allows you to record using your computer's microphone or an external microphone, and edit your recording on one platform. View the recording time, waveform, and file size whilst recording.
This online audio recorder is an easy to use web application without functional restrictions or time limits. There is no need for third-party support, or Flash plugins, downloads or inputs as processing, and saving of audio files is supported in most standard browsers.
Avail of a fully functioning recording tool, all within your browser, and save your files in a range of formats including MP3, WAV, OGG, WMA, M4R (iPhone ringtone format). Pause and resume your recording when needed. Edit your recording using functions fade in, fade out, change volume, and cut.
Online Voice Recorder is extremely easy to use:
Click the red 'Start Record' button to start your recording.
To pause and resume your recording, click the corresponding buttons.
When you're finished with your recording, simply click the 'stop' button.
Here, you can edit the audio file using a range of editing options by going to the editing page.
On the editing page, you will have various options for cutting, adjusting the volume, and fading in and out.
Once you're finished modifying your file, you can save your file to your computer in the desired format.
Enjoy your new recording!
The Online Voice Recorder has an array of uses: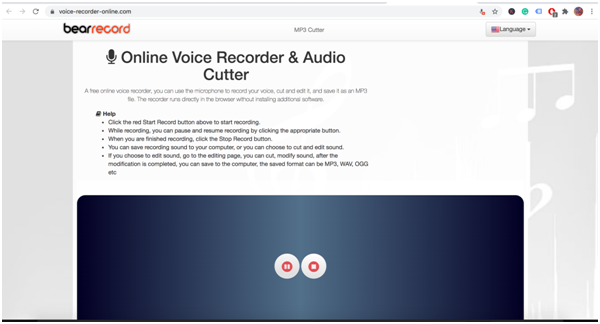 With the increase in popularity of podcasts, voice recording equipment is highly sought after. High-Tech recording equipment can be expensive and hard to use but don't let this stand in the way of you starting your very own podcast. Record and edit your files online, using a convenient tool like Online Voice Recorder, and save to your computer. Upload the files to a range of podcast hosting platforms to reach your new audience.
Forget jotting down details in important meetings or presentations; using this tool you can record all of the useful information to review at a later date. Online Voice Recorder could also be helpful for use in Interviews, particularly if you're interviewing a particularly fast talker, and taking notes can be distracting.
Online Voice Recorder can also be used as an educational tool. For example, it can be useful when for foreign language learning – for both teachers to record exercises, and for students to record themselves for self-evaluation. Lecturers can also record classes in advance and can be uploaded to digital learning platforms for students. Parents can also use this audio recorder to record bedtime stories for their children to help get them off to bed.
This online voice recorder is extremely easy to use and has an array of uses thanks to its handy editing tools and file formatting options.