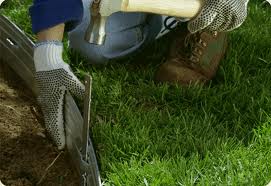 For the discerning landscape architect, landscape edging plays a huge role in framing a design and giving that sense of quality to a project.  With a number of different edging systems available, it is important to select the most suitable landscape edging for the job; edging that can be installed effortlessly, is aesthetically suitable, will be robust enough for its intended purpose and durable enough to last for years to come.
For projects involving intricate and complex soft landscape schemes, a plastic edging system like SuperEdge from ExcelEdge provides superbly flexible edging.  The BrickEdge variant comes as an L-shaped plastic paver restraint and is designed to form clean, durables lines, containing and supporting block pavers, cobbles and patio slabs.
For landscape designs who require discreet garden path or border edges, a more aesthetic steel edging system might be more appropriate.  The ExcelEdge Borderline range of steel edging makes lawn edging quicker and easier to handle than other systems on the market.  However, because Borderline is manufactured using Tora Weathering Steel, the uncoated version will develop a traditional, rusted outer appearance in good time, lending itself well to traditional installations in classical environments.  If more strength is required,  designers and landscape architects can opt for a more heavy-duty steel edging, such as HiGrade.  It's a commercial lawn edging that creates clear definition on surface materials, preventing migration of gravel and soil and is available in a number of finishes including; mild steel, stainless and Core-Ten steel, and also galvanized steel.
For hard surfaces, whether asphalt, resin bonded or loose gravel, blocks, bricks or paving slabs, landscape architects should consider the AluExcel range of recycled, recyclable aluminium edging. Lightweight and very easy to install, AluExcel won't rust or rot.  Because of it's flexibility, it's a firm favorite with specifiers and contractors too and results in clean lines and speedy installation.  The product is available in a variety of profile heights, from 18mm to 150mm and, as well as a flexible profile, it is also available in a rigid format in all sizes.  The standard version of AluExcel is chosen for creating clean defined edges to all types of hard landscape surfaces.
For aluminium edging that provides a high-end finish, All Edge Premium can be implemented as a commercial lawn edging.  Providing a sleek, uninterrupted face with completely concealed fixings, All Edge Premium affords contemporary style and finish, and with its reversible profile, you can chose from a round or square top edge.
With the rising popularity of balconies and roof garden designs, developers will benefit from a dedicated edging designed especially for implementing green or graveled roof edgings.  Just like the rest of the Excel Edge range, Roof Edge is easy to install but is available in a range of four profile heights and features a broad footplate.  This enables the top surfacing to provide its own anchoring and stability.  The product features vertical slots that allow lateral drainage across roof surfaces, designed especially to avoid water logging.
So with a product to suit quite literally every landscape edging requirement, developers, landscape architects and those working in the landscaping industry can be confident of installing products that are hard-wearing, fit for purpose and that produce extremely satisfying landscape edgings.
For more information on Aluminium edging
Link website :http://kinleysystems.com/